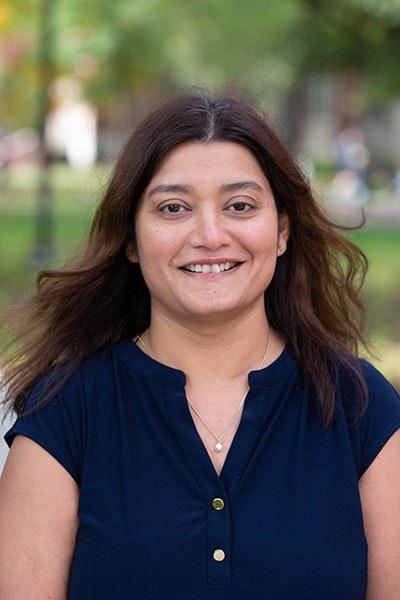 Bhuvana

Katkere

,

MD, PhD
Assistant Teaching Professor
126 ASI Building
University Park
,
PA
16802
Areas of Expertise
Immunology, Microbial Diseases
Education
MD, O. O. Bogomolets National Medical University, Kyiv, Ukraine, 2002
PhD, Albany Medical College, Albany, NY, 2012
Bhuvana Katkere is an Assistant Teaching Professor in the Department of Veterinary and Biomedical Sciences at the Pennsylvania State University (PSU). Dr. Katkere's early training began with medical school in O.O. Bogomolets National Medical University, Kyiv, Ukraine. Dr. Katkere was then awarded M.D degree. Dr. Katkere practiced medicine in India for a few years before pursing a post graduate degree in Albany Medical College, Albany, NY. Dr. Katkere was then awarded a Ph.D in Immunology and Microbial diseases from Albany Medical College for her work on "Molecular Requisite for B Cell Receptor Ubiquitination". As a post-doctoral fellow at Penn State University, Dr. Katkere trained with Dr. Girish S. Kirimanjeswara and Dr. Sandeep Prabhu in the area of Redox biology and Selenoproteins with a focus of the effect of Selenium supplementation on B cell Function. Dr. Katkere has been teaching undergraduate students at Penn State along with research.
Courses taught: 
Spring 2022 – VBSC 211, VBSC 418, VBSC 445
Fall 2021 – VBSC 050, VBSC 445
Spring 2020 – VBSC 211, VBSC 418
Spring 2019 – VBSC 211, VBSC 418
Fall 2019 – MICRB 410 (1 Lecture)
Fall 2018 – MICRB 410 (4 lectures)
Fall 2017 – MICRB410
Fall 2015 – BMB211, MICRB410
Spring 2014 – VBSC 418 (2 Lectures)
Selected Publications
Markley RL, Restori KH, Katkere B, Sumner SE, Nicol MJ, Tyryshkina A, Nettleford SK, Williamson DR, Place DE, Dewan KK, Shay AE, Carlson BA, Girirajan S, Prabhu KS, Kirimanjeswara GS. Macrophage Selenoproteins Restrict Intracellular Replication of Francisella tularensis and Are Essential for Host Immunity. Front Immunol. 2021 Oct 29;12:701341. doi: 10.3389/fimmu.2021.701341. PMID: 34777335; PMCID: PMC8586653.
Saha P, Xiao X, Yeoh BS, Chen Q, Katkere B, Kirimanjeswara GS, Vijay-Kumar M. The bacterial siderophore enterobactin confers survival advantage to Salmonella in macrophages. Gut Microbes. 2019;10(3):412-423. doi: 10.1080/19490976.2018.1546519. Epub 2018 Nov 18. PMID: 30449241; PMCID: PMC6546333.
Goralski TD, Dewan KK, Alumasa JN, Avanzato V, Place DE, Markley RL, Katkere B, Rabadi SM, Bakshi CS, Keiler KC, Kirimanjeswara GS. Inhibitors of Ribosome Rescue Arrest Growth of Francisella tularensis at All Stages of Intracellular Replication. Antimicrob Agents Chemother. 2016 May 23;60(6):3276-82. doi: 10.1128/AAC.03089-15. PMID: 26953190; PMCID: PMC4879415.
Katkere, B., Rosa, S., Drake, J. R. The Ubiquitin Ligase c-Cbl Mediates Signaling-dependent BCR Ubiquitination and BCR-mediated Antigen Processing. J Biol Chem. 2012 May 11;287(20):16636-44. PMID:22451666
Katkere, B., Rosa, S., Caballero, A., Repasky, E. A., Drake, J. R. Physiological-range temperature changes modulate cognate antigen processing and presentation mediated by lipid raft-restricted ubiquitinated B cell receptor molecules. J Immunol. 2010 Nov 1;185(9):5032-9. PMID: 20870938
Wilson, J. E., Katkere, B., Drake, J. R. Francisella tularensis induces ubiquitin-dependent major histocompatibility complex class II degradation in activated macrophages. Infect Immun. 2009 Nov;77(11):4953-65. PMID:19703975
Caballero, A., Katkere, B., Wen, X. Y., Nashar, T. O., and Drake, J. R. Functional and structural requirements for the internalization of distinct BCR-ligand complexes. Eur J Immunol. 2006 Dec;36(12):3131-45. PMID:17125144
Katkere, B., and Boiko, I. I. Soy as a major source of protein for vegetarians in India. (Ukrainian), 1999