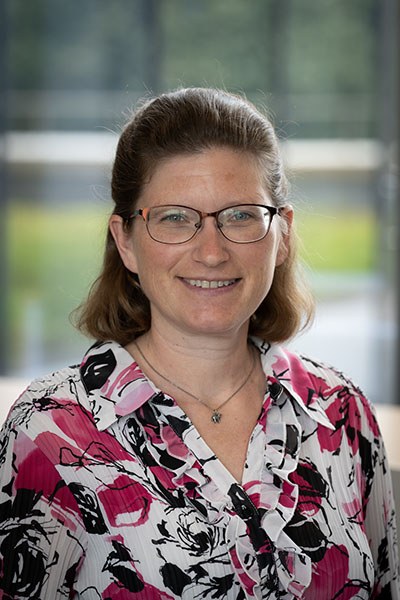 Jody
A.
Kull, DVM
Assistant Teaching Professor
108A Animal, Veterinary and Biomedical Sciences Building
Shortlidge Road
University Park
,
PA
16802
Areas of Expertise
Dairy/beef cattle herd health and preventative medicine
Small ruminant herd health and preventative medicine
Food animal disease identification/diagnostics and treatment plans
Rural veterinary medicine/emergency triage and small business support
Education
Certificate, Dairy Production Medicine VI Course, Penn State University - May, 2012.
DVM, Virginia-Maryland College of Veterinary Medicine - May, 2004.
BS, Animal Bioscience, The Pennsylvania State University - May, 2001.
Dr. Kull grew up on a 3rd generation dairy farm in SE PA, graduated from PSU (Animal Bioscience), and Virginia-Maryland College of Veterinary Medicine.  She practiced mixed animal veterinary medicine for a few years before starting her own ambulatory food animal veterinary practice.  Valley Mobile Veterinary Service opened for business in 2008, serving the producers of the Susquehanna River Valley and surrounding area.  
Dr. Kull was an Adjunct Professor at Bloomsburg University in the Dept of Biological and Allied Health Sciences in 2021 & 2022, teaching human anatomy & physiology labs to nursing students as well as managing her veterinary practice.  Dr. Kull joined the PSU VBSC faculty in 2023. after 19 years of clinical practice.  She brings to PSU VBSC experience in practice startup and growth, producer and community education, producer relationships, herd health management and population medicine, individual animal cow disease identification and therapies, emergency medical triage, disease outbreak management, regulatory disease surveillance, and many more skills.  She has cared for dairy cows, beef cows, sheep, goats, llamas, alpacas, elk, deer, pigs, bison, and even a camel as a food animal veterinarian.  The variety of daily activities, challenges working in the field, and working with producers are what make a rural veterinary career so rewarding!  
Dr. Kull is extremely passionate about rural veterinary medicine, it's impact and relationship within the community for the safety of our local, national, and world food supplies.  This ties directly into our food security and the health of the people in the community growing and caring for our animals.  She enjoys mentoring and advising students during their veterinary educational career and sharing her passion of food animal medicine.