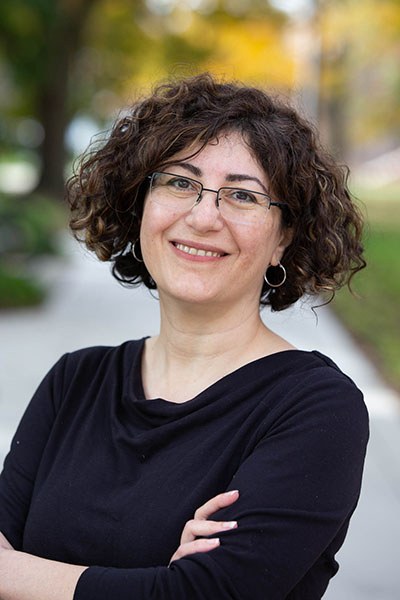 Parisa

Kalantari

,

PhD
Assistant Professor of Immunology
218 AVBS Building
Shortlidge Road
University Park
,
PA
16802
Areas of Expertise
Immunology of infectious parasitic diseases: schistosomiasis and malaria
Signaling through immune system receptors
Host-pathogen interactions
Education
Postdoctoral Fellow, University of Massachusetts Medical School, Department of Medicine, Worcester, MA
Ph.D. in Pathobiology, Department of Veterinary and Biomedical Sciences, Pennsylvania State University, University Park, PA
M. S. in Biology, Department of Biology, University of Tehran, Tehran, Iran
B. S. in Biology, Azad University of Tehran, Tehran, Iran
B. A. in French Language and Literature, Shahid Beheshti University, Tehran, Iran
Centers
Graduate Programs
Research
Schistosomes are ancient parasites that have co-evolved with their hosts in such a way that renders the host immune system unable to eliminate the pathogen. Most schistosome-infected patients develop a mild form of the disease; however, in 5-10% of patients, the disease is severe and life-threatening. A similar disease heterogeneity is observed in the murine model of schistosomiasis, where CBA mice develop severe granulomatous inflammation mediated mainly by CD4+ T helper (Th) 17 cells, while BL/6 mice develop milder pathology associated with a Th2 cytokine response. To date, the signaling pathways resulting in these differences in pathology remain unclear. My laboratory seeks to understand:
Immune pathways involving STING and autophagy in the restraining immunopathology in schistosomiasis.
STING is an adaptor molecule important in DNA sensing and type I IFN production. We recently observed that the loss of STING results in a marked increase in egg-induced inflammation. Mechanistically, STING-mediated IFNβ suppresses dendritic cell (DC) expression and function of CD209a, a C-type lectin receptor that we recently showed to be associated with severe schistosome immunopathology (Cell Reports 2018, Frontiers in Immunology 2019). Our efforts are geared towards identifying the core cellular transcriptional networks responsible for the suppression of CD209a transcription. This will be combined with RNA sequencing to uncover the breadth and novelty of the STING-dependent transcriptional changes during schistosomiasis, and to identify new players in disease progression.
Defective autophagy underlies a wide variety of diseases including cancer, infections and neurodegenerative diseases. We showed that schistosome infected ATG5 f/f /Cre+ (CD11c) mice develop a marked increase in egg-induced granulomatous inflammation, suggesting that ATG5 expression in DCs is sufficient to induce protective responses in vivo. In line with these data, high-pathology CBA mice have impaired autophagy leading to an increase in IL-1β-dependent Th17 cells. We are interested in understanding the molecular mechanisms by which autophagy restricts excessive proinflammatory responses, leading to a reduction in immunopathology. These findings may in part explain the unresolved dichotomy of disease outcome and would allow specific targeting of this pathway for therapeutic purposes.
Role of inflammasomes in schistosomiasis with an emphasis on Th17 cellular response to infection.
Inflammasomes are cytosolic multiprotein complexes responsible for the activation of inflammatory immune responses. We and others have shown that inflammasomes are required for schistosome egg-mediated IL-1β production. A particular current focus of the lab is on understanding which inflammasomes are involved and whether they have an impact on Th17 cell responses and schistosome immunopathology.
Publications
*Kalantari P., Bunnell S.C., Stadecker M.J. (2019) The C-type lectin receptor-driven, Th17 cell-mediated severe pathology in schistosomiasis: Not all immune responses to helminth parasites are Th2 dominated. Invited mini-Review paper, Frontiers in Immunology. Jan 30; 10 (26):1-7.
Corbett Y, D'Alessandro S, Parapini, Scaccabarozzi, Kalantari P., Zava S, Giavarini F, Caruso D, Colombo I, Egan TJ, Basilico N. (2018) Interplay between Plasmodium falciparum haemozoin and L-arginine: implication for nitric oxide production. Malaria J. 6;17(1):456.
Kalantari P. (2018) The Emerging Role of Pattern Recognition Receptors in the Pathogenesis of Malaria. Vaccines (Basel) 6(1). pii:E13. Invited Review paper
*Kalantari P., Morales Y., Miller E.A., Jaramillo L.D., Ponichtera H.E., Wuethrich M., Cheolho C., Seminario M.C., Bunnell S.C., Stadecker M.J. (2018) CD209a Synergizes with Dectin-2 and Mincle to Drive Severe Th17 Cell-Mediated Schistosome Egg-Induced Immunopathology. Cell Reports Jan 30; 22(5):1288-1300.
*Kalantari P., Harandi O.F., Agarwal S., Rus F., Kurt-Jones E., Fitzgerald K.A., Caffrey D.R., Golenbock D.T. (2017) miR-718 represses pro-inflammatory cytokine production through targeting PTEN. J Biol Chem, 292(14):5634-5644.

*Corresponding author
Selected as cover image
Editor's pick

Gazzinelli R.T., Kalantari P., Fitzgerald K.A., Golenbock D.T. (2014) Innate sensing of malaria parasites. Nature Reviews Immunology, 14(11):744-57.
Torgbor C., Awuah P., Deitsch K., Kalantari P., Duca K., Thorley- Lawson D.A. (2014). A multifactorial role for P. falciparum malaria in endemic Burkitt's lymphoma pathogenesis. PLOS Pathogens, May 29; 10(5):e1004170.
Kailasan Vanaja S., Rathinam V., Atianand M., Kalantari P., Skehan B., Fitzgerald K.A., Leong J.M. (2014) RNA-DNA hybrids are activators of NLRP3 inflammasome. PNAS, May 27;111(21):7765-70
Gupta R., Ghosh S., Monks B., DeOliveira R, Techen T., Kalantari P., Nandy A., Bhattacharjee B, Chan B., Ferreira F., Rathinam V., Sharma S., Lien E., Silverman N., Fitzgerald K, Firon A., Trieu-Cuot P., Henneke P., Golenbock D.T. (2014) RNA and β-hemolysin of Group B streptococcus induce IL-1β by activating NLRP3 inflammasomes in mouse macrophages. J Biol Chem, May 16;289(20):13701-5
Kalantari P., DeOliviera R., Chan J., Corbett Y., Rathinam V., Parroche P., Pleogh H., Gazzinelli R.T., *Golenbock D. T., *Fitzgerald K.A. (2014) Dual engagement of the NLRP3 and AIM2 inflammasome by plasmodial-derived Hemozoin and DNA during malaria infection. Cell Reports 6(1): 196-210. *Equal contribution.

Highlighted as a Featured Article on the Malaria Nexus (Feb. 6, 2014)

Sheedy F.J., Grebe A., Rayner K.J., Kalantari P., Ramkhelawon B., Carpenter S.B., Becker C.E., Ediriweera H.N., Mullick A.E., Golenbock D.T., Stuart L.M., Latz E., Fitzgerald K.A., Moore K.J. (2013) CD36 coordinates NLRP3 inflammasome activation by facilitating intracellular nucleation of soluble ligands into particulate ligands in sterile inflammation. Nature Immunology 14(8): 812-20.

Selected as cover image.
News and Views: NLRP3 inflammasome activation: CD36 serves double duty, by Kagan J.C. and Horng T. Nature Immunology 14(8): 772-774, 2013.
Research Highlight: CD36: linking lipids to the NLRP3 inflammasome, atherogenesis and atherothrombosis, Oury C., Cell Mol Immunol 11, 8–10, 2014

Sharma S., *DeOliveira R.B., *Kalantari P., Parroche P., Goutagny N., Jiang Z., Chan J., Bartholomeu D.C., Lauw F., Hall J.P., Barber G.N., Gazzinelli R.T., Fitzgerald K.A., Golenbock D.T. (2011) Innate Immune Recognition of an AT-Rich Stem-Loop DNA Motif in the Plasmodium falciparum Genome. Immunity. 26; 35(2):194-207.

*co-second author
Preview: Taking the STING out of malaria, by Erdman L.K. and Kain K.C., Immunity 35 (2), 2011:149–151
Research Highlight: Innate immunity: AT-rich DNA trapped in the cytoplasm, by Papatriantafyllou M., Nat Rev Immunol. 11: 569, 2011

Kalantari P., Vivek Narayan, Andrew J. Henderson, and K. Sandeep Prabhu (2009) 15-deoxy-Δ12,14- Prostaglandin J2 Inhibits HIV-1 transactivating protein, Tat, through covalent modification. FASEB J. Aug;23(8):2366-73.
Palempalli U. D., *Gandhi U.H., *Kalantari P., Vunta H., Arner R. J., Narayan V., Ravindran A., and Prabhu K. S. (2009) Gambogic acid covalently modifies IkB-kinase-b subunit to mediate suppression of lipopolysaccharide-induced activation of NF-kB in macrophages. Biochem J. Apr 15; 419(2):401-9. *co-second author
Kalantari P., Narayan V., Natarajan S. K., Muralidhar K., Ghandi U.H., Vunta H., Henderson A.J., Prabhu K. S. (2008) Thioredoxin reductase-1 deficiency in human macrophages enhances Tat-dependent HIV-1 transcription. Journal of Biological Chemistry 283(48): 33183-90.
Kalantari P., Harandi O.F., Correll P. and Henderson A.J. (2008) HIV Tat mediates degradation of RON receptor tyrosine kinase, a regulator of inflammation. Journal of Immunology 181(2):1548-55.
Klatt A., *Zhang Z., *Kalantari P., Hankey P.A., Gilmour D.S., Henderson A.J. (2008) The Receptor Tyrosine Kinase RON represses HIV-1 Transcription by Targeting RNA Pol II processivity. The Journal of Immunology. 80 (3): 1670-1677. *co-second author
Kalantari P., Vunta H., Palempalli U.D., Reddy C.C., Henderson A.J., Prabhu K.S. (2007) Nutritional control of HIV-AIDS-A case for Selenium. American Journal of Infectious Diseases. 3(4): 195-201 (Review paper)
Lee E., *Kalantari P., Correll P., Power C., Henderson A.J. (2004) RON receptor tyrosine kinase regulates HIV-1 transcription in monocyte/macrophages. Journal of Immunology. 173: 6864-6872.
Kalantari P., Sepehri H., Behjati F., Ousati Ashtiani Z., Akbari M.T. (2001) Chromosomal studies in infertile men. Cytology and Genetics. 35 (6): 50-54.