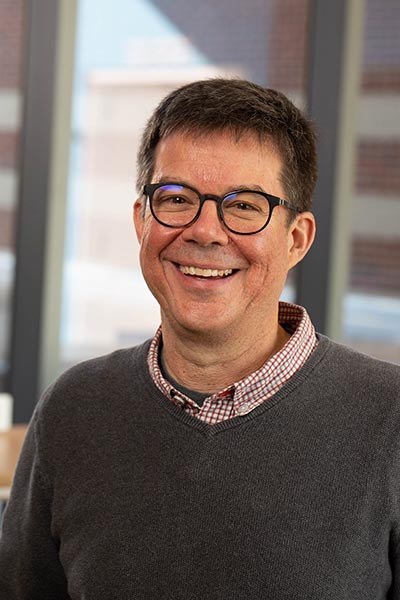 Robert

F.

Paulson

,

Ph.D.
Professor of Veterinary and Biomedical Sciences
203 AVBS Building
Shortlidge Road
University Park
,
PA
16802
Areas of Expertise
Hematology
Erythropoiesis
Anemia Research
Leukemia
Education
Postdoctoral training, Samuel Lunenfeld Research Institute, Mount Sinai Hospital, Toronto, Canada
PhD, Biochemistry, University of California, San Francisco, CA
BA, Biochemistry, Northwestern University, Evanston, IL
Graduate Programs
Molecular Cellular Integrative Biosciences (MCIBS)
Integrative and Biomedical Physiology 
Research
Mechanisms that regulate tissue regeneration with a focus on understanding the response to anemic and hypoxic stress.
Work in the Paulson lab focuses on the mechanisms that regulate tissue regeneration. Throughout adult life, tissues become damaged and must be repaired or regenerated to maintain homeostasis. We focus on the maintenance of erythrocytes or red blood cells. Steady state erythropoiesis generates new erythrocytes at a constant rate of about 2.5 x 106/second. Despite this enormous capacity, there are times when this process cannot produce enough erythrocytes. For example, infection inhibits the ability of the bone marrow to generate erythrocytes. Similarly, in response to anemia the bone marrow production of erythrocytes is not sufficient to maintain normal blood levels. At these times stress erythropoiesis rapidly produces large numbers of erythrocytes to maintain homeostasis until the bone marrow can resume production. This process is a stem cell mediated process as hematopoietic stem cells directly generate stress erythroid progenitors. Furthermore, the signals that regulate this process are distinct from steady state erythropoiesis and are more associated with embryonic development than hematopoiesis suggesting that stress erythropoiesis is similar to other tissue regeneration processes.