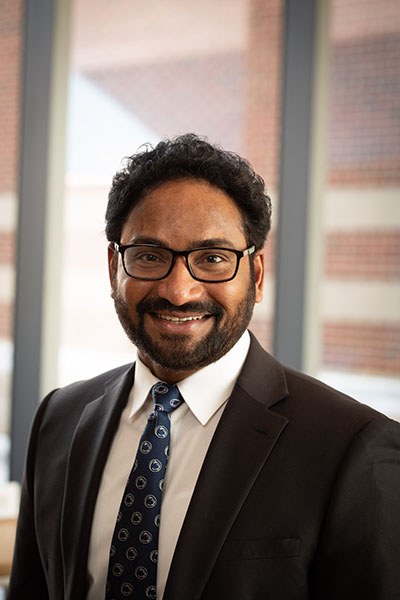 Suresh

V.

Kuchipudi

,

BVSc, MVSc, PhD, PGCHE, FHEA, DipACVM, MBA
Director (interim), Animal Diagnostic Laboratory,
Dorothy Foehr Huck and J. Lloyd Huck Chair in Emerging Infectious Diseases.
W-205, Millennium Science Complex (Phone: 814-863-4436)
22D, Animal Diagnostic Laboratory (Phone: 814-863-5737)
University Park
,
PA
16802
Areas of Expertise
Infectious diseases
Pathogen-host interactions
Zoonotic and Emerging Viruses
Vaccines and therapeutic development
Immune responses to viruses
Viral pathogenesis
Diagnostic assay development
Education
MBA, Pennsylvania State University, USA, 2021
Diplomate of American College of Veterinary Microbiologists (Diplomate ACVM)-(Virology-2014, Immunology-2018 )
Ph.D., Institute of Comparative Medicine, University of Glasgow, Glasgow UK,
Fellow of the Higher Education Academy, UK, (FHEA)
Postgraduate Certificate in Higher Education (PGCHE), University of Nottingham, UK,
MVSc, Tamil Nadu Veterinary, and Animal Sciences University, Chennai, India,
BVSc & AH, Acharya N.G. Ranga Agricultural University, Hyderabad, India,
Biography
Dr Kuchipudi is a Clinical Professor and serves as the Interim Director of the Animal Diagnostic Laboratory (ADL). Dr Kuchipudi is an American College of Veterinary Microbiologists (ACVM) board-certified specialist in virology and immunology. The central theme of Dr. Kuchipudi's research is the investigation of host and virus determinants of zoonotic virus spillover, with the overall goal of gaining a deeper understanding of the mechanisms underlying the emergence of a new epidemic or pandemic viral pathogens and translating this knowledge for the development of innovative diagnostics and novel interventions. Current research in the Kuchipudi lab involves SARS-CoV-2 and a range of other emerging and zoonotic viruses. 
Honorary positions
Adjunct Professor, Tamil Nadu Veterinary and Animal Sciences University, Chennai, Tamil Nadu, India
Graduate Programs
Teaching  
VBSC-444- Epidemiology of Infectious Diseases
VBSC-496- Independent Studies
Professional Memberships
American College of Veterinary Microbiologists (ACVM)
American Association of Veterinary Laboratory Diagnosticians (AAVLD)
American Society for Microbiology (ASM)
Full list of publications: Pubmed
Center for Molecular Immunology and Infectious Disease
Center for Infectious Disease Dynamics
Molecular, Cellular and Integrative Bio-sciences
Animal Diagnostics Research Faculty
Applied Biological and Biosecurity Laboratory